To help augment academic technology services capabilities and to assist with the completion of projects which assist faculty on short-term desired technology deliverables, Academic Technology Services sponsors and manages several student technology solutions teams.
These solutions teams are made up of talented students team members who, recruited for their specific technology software or service competencies, are utilized in service of the fulfillment of academic technology objectives and outcomes of faculty-initiated help requests throughout SMU. As faculty partner with embedded Academic Technology Service Directors, often student team members will be tasked to work with faculty directly toward the completion of project deliverables.
---
SMU STAR Program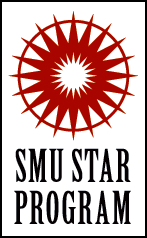 Since 1998, the Student Technology Assistant in Residence (STAR) Program has promoted the appropriate use of technology in teaching and learning at Southern Methodist University. We do this by recruiting and training students who are proficient in the use of technology to support the most common technological needs of campus community. These STAR students are available to work with faculty and departments on "short-term" instructional technology projects. Since the start of the program, SMU STAR Program have assisted faculty with hundreds of projects.
More information about the SMU STAR Program is available at stars.smu.edu.
---
Online Production Services (OPS)
The OPS team is responsible for the end-to-end initial consultation, design, and preparation of online courses and programs within the SMU Global & Online delivery and facilitation unit. The team also collaborates with stakeholders across SMU to advance online teaching quality and other digital learning initiatives.
More information about the Online Production Services is available at smu.edu/ops.
---
Meadows TechEffect
TechEffect is the primary service destination for creative arts technology solutions at the Meadows School of the Arts. TechEffect will do whatever it takes to accommodate or accomplish your arts technology requests! While we can't always control the technology on campus, we can always get in touch and find answers from the people who do. Our solutions desks provide solutions that make technology more effective for arts education and instruction. TechEffect students are specifically recruited from throughout Meadows' and SMU's many different disciplines based upon their proficiency in the use of technology applicable to their areas of study,

More information about Tech Effect can be found at smu.edu/Meadows/About/Resources/MeadowsTechnology/TechEffect.
---
Center for Teaching Excellence (CTE)
The CTE is available to assist with your face-to-face and online course design needs. Additionally, they can assist you with consultations about technology implementation (for student engagement and subject matter showcase), assessment strategies, and research-based strategies to improve learning

More information about Center for Teaching Excellence can be found at smu.edu/cte.