Garry Weber End Zone Complex
Igniting the future of Mustang football
Sparked by the largest gift in the history of SMU Athletics and other principal gift commitments, the University broke ground on the Garry Weber End Zone Complex on December 2, 2022, launching the next phase of the project's $100 million fundraising drive. The project's second fundraising phase seeks to raise over $20 million for the three-level, 192,500-square-foot expansion of Gerald J. Ford Stadium, which will increase the functionality, efficiency and overall experience of Mustang football and its fans. Through these gifts to the Garry Weber End Zone Complex, Ford Stadium will continue SMU's centurylong commitment to competing at the highest levels.
Expected impact
Bolsters the efficiency, occupancy and functionality of Ford Stadium through better accessibility and premium fan seating.
Empowers Mustang student-athletes with dynamic new spaces for strategy- and team-building activities.
Strengthens the health and well-being of SMU Athletics through improved nutrition and sports medicine facilities, as well as better training and recovery options.
Furthers SMU Athletics' momentum toward the upper echelons of competitive athletics.
Building on a legacy of athletic excellence
The new Garry Weber End Zone Complex will anchor Ford Stadium's south bowl that will connect the stadium's existing east and west gate entries. The three levels of the new complex will increase the functionality, efficiency and overall experience of Mustang football for student-athletes and fans.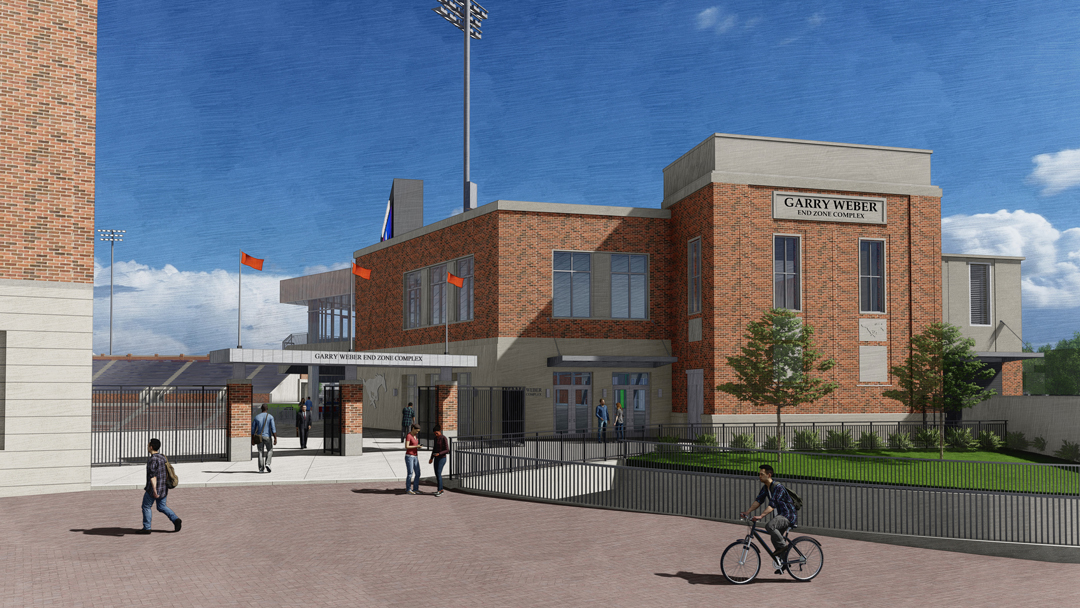 Team-focused spaces will include new locker rooms, a weight room, position-specific meeting rooms, a full-team auditorium and a kitchen and training table to support all of SMU's 484 student-athletes. The new facility will also house football coaches, support staff and video and recruiting services.
The newly constructed concourse will offer premium experiences for fans, expand guest facilities, improve pedestrian accessibility and add an inviting breezeway that joins the stadium's entryways to the internal field.
Shaping champions
We thank our donors for their generous commitments to the Garry Weber End Zone Complex as part of SMU Ignited: Boldly Shaping Tomorrow, our ambitious $1.5 billion campaign for impact. Through these proud SMU community members and Mustang fans, SMU Athletics reaches a new milestone in its history with over $250 million invested in championship-caliber facilities since 2013.
Build your legacy
The Garry Weber End Zone Complex supports the SMU Ignited campaign goal to enhance our campus and community through nationally competitive athletics, community engagement and diverse public programming.
For more information about giving opportunities to SMU Athletics in support of the Garry Weber End Zone Complex, please contact Joshua Whittenburg, assistant athletics director for development, at jwhittenburg@smu.edu or 214-768-3315.