CAMPAIGN UPDATE | DECEMBER 2021
Forging a Brighter Tomorrow
A new era of excellence was ushered in September 17 with the launch of SMU's biggest and boldest fundraising drive to date.
Launching SMU Ignited
SMU Ignited celebrated its highly anticipated campaign launch with a host of festivities throughout Texas, starting with a spirited kickoff at the heart of SMU's campus. Supporting this exciting new chapter of the University were members of the Campaign Leadership Council, administrative leadership and members of the SMU student community, including the SMU Mustang Band and cheer squads.
From the President
Welcome to the inaugural issue of the SMU Ignited campaign update, our quarterly report about our $1.5 billion multiyear campaign for impact. As the campaign moves forward, we are eager to share the progress of SMU Ignited. This quarterly newsletter will outline the impact you and your fellow SMU supporters are having on the University, both on and off the Hilltop.
Campaign quarterly report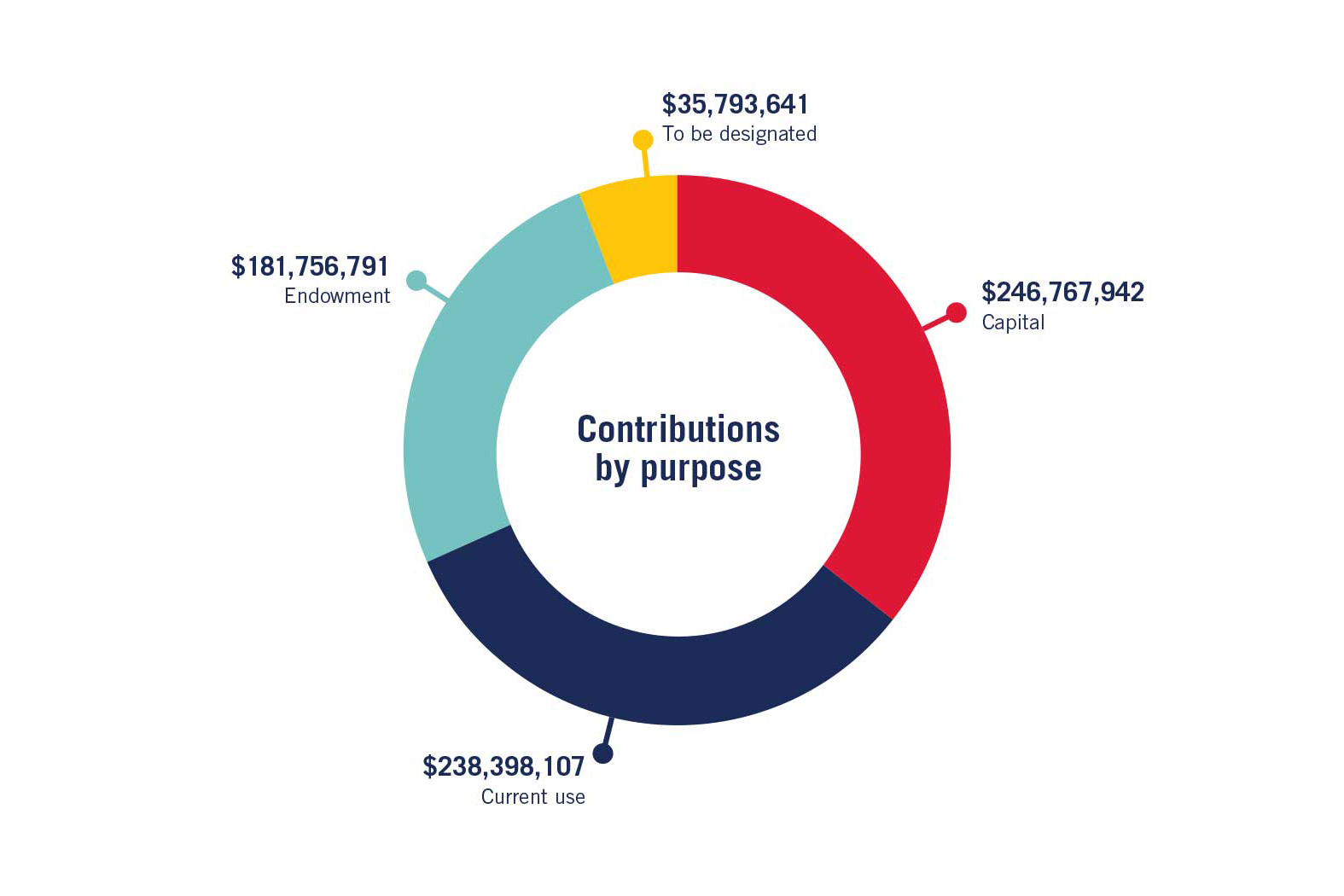 Thanks to our supporters, SMU Ignited is off to a great start.
35% increase

in donor commitments to SMU from June 1 to October 31, 2021 ($39.7 million), compared to five-year average ($29.4 million).

94 major donors

gave $100,000 or more to a particular cause between April 1 and October 31, 2021.

30,102 donors

have made a gift of any size from June 1, 2017 through October 31, 2021 – all of which count toward the campaign.
Leading bold change
Exhibiting passion and drive for SMU, our Campaign Leadership Council, National Campaign Steering Committee and school-specific Campaign Steering Committees will lead the University into its next era of excellence. SMU Ignited: Boldly Shaping Tomorrow, the University's $1.5 billion multiyear campaign for impact, would not be possible without the tireless and steadfast support from our volunteer leaders.
Q&A with SMU's Alumni Board chair
Kristin Wagner Henderson '82 was excited to take on the role of SMU's new alumni board chair so she could use her passion for her alma mater to strengthen alumni relationships. A former Mustang athlete and proud donor, Henderson believes that "hiring the best faculty and providing opportunities for research will take us to the next level and continue to attract exceptional students." She earned several scholarships while on the Hilltop and fervently believes in "investing in the next generation of students to provide opportunities to enrich their lives."
We all thrive when we lift each other up.
— Kristin Henderson '82
NVIDIA partnership drives ground-breaking research
The collaboration will dramatically boost the University's high-performance computing system – increasing its memory tenfold and setting the stage for artificial intelligence and machine learning 25 times faster than current levels. The collaboration will also give SMU faculty, students and research partners in Dallas and beyond the ability to integrate sophisticated AI technology across a wide array of research disciplines.
Sparking the future of artistic engagement
Linda P. '60, '99 and William A. Custard '57 committed $3 million, matched by an additional $3 million from The Meadows Foundation, to establish the new Custard Institute for Spanish Art and Culture within the Meadows Museum. The largest personal contribution in the history of the Meadows Museum, the Custard gift will expand the museum's current research and educational programs.
Igniting the future of business education
As part of SMU Ignited, the Cox School of Business has announced two bold initiatives that will propel us into our next era of innovation: an extensive renovation and expansion project for the Cox School's buildings and a drive to endow MBA scholarships, empowering the next generation of business leaders to meet grand challenges with meaningful solutions.
Mustangs on the move
This fall proved to be a time for grand celebrations. The University launched its next campaign for impact and continued to celebrate that launch at subsequent occasions including the community kickoff event held at the new AT&T Discovery District in downtown Dallas, at SMU's own Homecoming and in Houston. Mustang students, faculty, staff, alumni, friends and families donned SMU Ignited hats and gathered together to honor this next chapter in SMU's history.
Stampede of activity
From the celebrations of the SMU Ignited kickoff through the end of the semester, the fall 2021 was energized by the generosity of SMU supporters. Take a look at the impact they made on our students, on teaching and research, and in the community and beyond.
Happenings on the Hilltop (and beyond)
March 22

March 22

April 7–9

May 6

Cox School of Business renovation and expansion groundbreaking
Video
Dallas Hall in a whole new light
As part of the celebration of the launch for SMU Ignited: Boldly Shaping Tomorrow, Mustangs on campus for Homecoming and Reunions had the opportunity to see a special light and sound show projected each night onto Dallas Hall.
The SMU Ignited campaign "is an important investment in the future of North Texas. … If SMU succeeds here the university will be stronger for it and our city and region will reap benefits from it for generations to come."
Contact us
We are excited to have Mustangs, SMU family and friends involved in SMU Ignited: Boldly Shaping Tomorrow. To learn more about how you can achieve your philanthropic objectives and about our plans to think big and do good, please contact your representative at SMU or email smuignited@smu.edu.