SMU Dedman Law is home to the premier corporate counsel externship program in the country. Each year, approximately 100 third-year JD students and international LL.M.s participate in this innovative academic program that combines a corporate counsel class with externships in corporate legal departments. The capstone learning experience supplements our rich business law curriculum with hands-on experience and is part of the Robert B. Rowling Center for Business Law and Leadership.
Students apply what they have learned in their law school courses in the real world under the supervision of in-house counsel. In today's environment, employers demand recent law graduates who can "hit the ground running." The experience students gain in corporate externships helps prepare them for those expectations.
SMU Dedman Law is on the cutting edge when it comes to educating law students about the in-house practice of law. The program gives our students a glimpse of what it is like to work in-house and teaches them about substantive topics encountered in corporate legal departments. While students are externing at major corporations, they take a weekly class that complements their work, exploring topics like corporate governance, risk management, compliance, SEC reporting, employment law, commercial contracts, and real estate leases.
DFW is home to 44 Fortune 1000 headquarters, 24 Fortune 500 companies and three Fortune 10 companies. This wealth of companies in our own backyard as well as our connections in those companies makes this innovative learning experience possible.
Dean Stephen B. Yeager co-founded the program in 2013 along with Professor Marc I. Steinberg. According to Dean Yeager, "These corporate externships are learning experiences. They are not the pathway to a legal job like a summer clerkship is with a law firm, but the skills, substantive experience, broader networks, and stronger résumés students build through the program can make them more attractive to legal employers."
By the time students participate in the externship program, most have litigation experience working with a judge or a law firm. All too often, however, externs have no transactional experience, which can be much more difficult for students to obtain in law school. The program provides a large number of transactional and compliance placements where students can work with contracts, conduct due diligence, and attend negotiations.
The program also provides students with educational experiences they could not obtain in the classroom. For example, students have the opportunity to work in very specialized practice areas such as fashion law, cybersecurity and data privacy, healthcare compliance, aviation taxation and food labeling law.
Externships also help students explore additional career options. Many externs work in areas of the law they never even knew existed, and then discover that they enjoy the field. If students find that the job opportunity they thought they wanted is not feasible, they now know that satisfying alternatives exist. Along the same lines, the program opens students' eyes to in-house practice and often piques their interest in working as corporate counsel at some point in their careers. The relationships externs form during the semester can be extremely helpful in their job searches.
Students who perform well in corporate counsel externships may receive good references from inside counsel at major corporations based on first-hand knowledge of the students' work product, work ethic, and personality. Solid recommendations by corporate counsel to their outside law firms and/or counterparts at other companies can be instrumental in a student's job search and may tip the scales in his or her favor. Indeed, some students have found permanent job opportunities as a result of contacts made in their externships. One extern secured a first-year associate position with the corporate/securities section of a large firm based in part on strong references given by the attorneys at her placement with a publicly-traded company.
Former students tell us all the time that employers routinely ask about externship placements in legal interviews. We believe attorneys find the experience interesting and appreciate the value of what students learn through the program.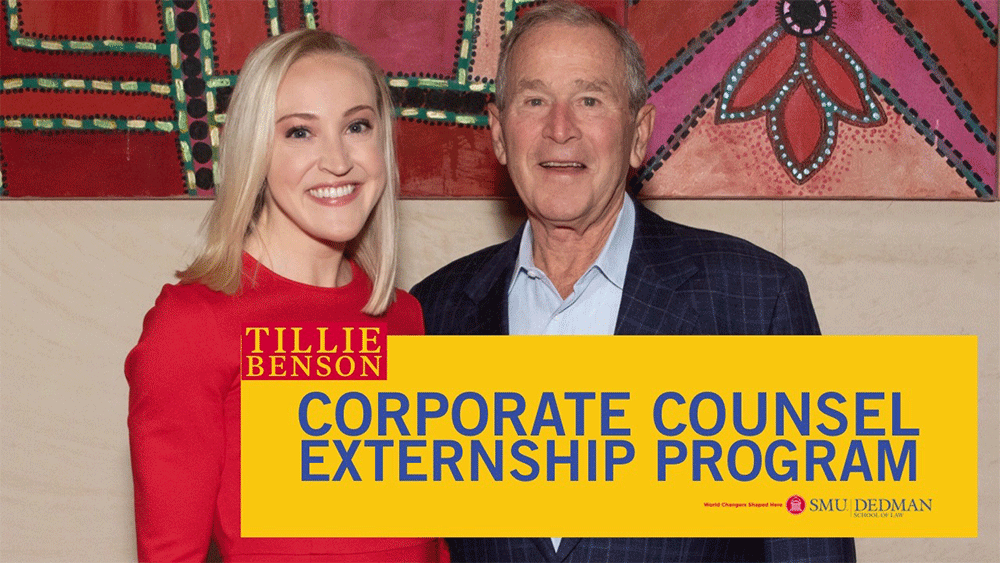 Marc Steinberg, the Rupert and Lillian Radford Professor of Law, serves as the Director of the program. Stephen Yeager, Assistant Dean for Student Affairs and a former general counsel and Eric Hinton, Director of the Robert B. Rowling Center for Business Law and Leadership are the Faculty Supervisors, overseeing the externs' work and serving as the liaison with corporate legal departments.
Camille Eslick

Real Page, Inc.

"The Corporate Counsel Externship Program used the classroom and externship components to teach me what the life of a corporate lawyer can be like and how corporate legal departments operate. One without the other could teach valuable information, but together they transform the experience from isolated into comprehensive.

Attorneys I worked with took time out of their days to sit down with me and discuss the projects, background and even how the projects correspond to my individual interests. As a result, I learned how particular legal issues relating to litigation, contracts, or internal operations arise; how to address them; and best practices to resolve them."