This Means War Games: A New Virtual Experiential Learning Experience at SMU Cox
Professors Arjan Singh and David Jacobson developed the first virtual War Game at SMU Cox in collaboration with IPADE at Universidad Panamericana.
Careful planning is essential when navigating a complex and competitive global business landscape. Without preparation, it's like going into battle completely unarmed. Faculty and staff at the SMU Cox School of Business are dedicated to providing students with the right tools and training to tackle any business problem. This is why SMU Cox recently added War Games as an extension of the business school curriculum. We sat down with the chief architects of War Games at SMU Cox, professors Arjan Singh and David Jacobson, to discuss the objectives of a War Game, how War Games started at SMU Cox, and their future integration into Online MBA programs.
What is a War Game?
War Games are best known as military exercises where armed forces test their strategic thinking and battle readiness. In a typical War Game, military personnel are divided into at least two teams and then engage in a simulated conflict. Each team prepares a plan of action, then reacts in real time to their opponent's moves.
The concept is analogous in the business world. A company will divide management into two or more teams, each team representing either the company itself or one of its competitors. The teams all work to outmaneuver one another as they try to accomplish goals associated with developing and marketing their business's product or services. This practice is often run in corporations at the top of their field in technology, healthcare, oil and gas, and consultancies. Companies as diverse and prominent as the Tata Group, Li & Fung, Nestlé, and Unilever all utilize War Games.
"Not only is it a brilliant strategy framework," said Jacobson, "but it's easy to quickly teach students how to implement, and it generates fact-based strategy development."
Businesses must develop competitive intelligence—a process of gathering and analyzing information on competitors to maintain a market advantage—to stay ahead of the curve. Of course, developing and implementing business strategy requires a tactile understanding of external market dynamics. Enter the value of War Games. For a school like SMU Cox, which emphasizes experiential learning as one of the pillars of the Cox Advantage, War Games are a perfect educational fit. War games provide a controlled environment that teaches students how to predict customer behavior, mitigate risk, and map out competitor strategies.
Surprisingly, even though Singh has run War Games in a variety of settings from private industry to sessions at the University of California, they remain an underused practice in academic settings. "It's not a common toolkit that universities actually teach students," Singh said. "So this is where SMU Cox has taken the lead in bringing this to the forefront and immersing the various different students and cohorts to go through this to understand how this works."
The virtual War Games presentation announces the grand prize: the SMU Cox Mustangs Trophy.
First War Game at SMU Cox
SMU Cox hosted its first War Game – "The Battle for the Cloud" – in October 2020 with Online MBA, Executive MBA and Professional MBA students. While War Games are usually in-person workshops, Singh and Jacobson had to work around pandemic restrictions creatively. They took a leap and developed the first virtual War Game: a collaboration between SMU Cox and Universidad Panamericana IPADE.
Registration was open to members of the Online MBA, Professional MBA, and Executive MBA student population, which attracted lots of capable thinkers. There were a total of six student teams, with each school represented in three teams. The wargame, entitled "The Battle for the Cloud," asked students to help their organization develop a successful strategy for cloud computing services. Over the three-day course, students were divided into six teams representing major companies. IPADE students represented Amazon Web Services, IBM Cloud, and Oracle; SMU Cox students represented Microsoft Azure, Google Cloud, and Alibaba Cloud.
The session started with keynote speaker Jay Nakagawa, director of competitive intelligence at Dell. Singh and Jacobson served as the game moderators and kicked off group activities by providing students with a 120-page slide deck containing background information on each company.
"Success requires deep awareness of your assigned company and its culture and values. It's really based on how well you actually understand the company that you're representing," Singh said. "That's really the key, and that's the whole notion of wargaming."
The teams completed two exercises, each followed by a presentation of their findings. The first exercise consisted of building a company strategy: pinpointing its strengths, weaknesses, and assumptions surrounding their competition. Students analyzed a scenario in the second exercise—determining their course of action as the company they represented. Following the presentations, students received scores for a distinguished panel of judges including senior faculty and industry professionals from Salesforce, SAP, Siemens, Hitachi, Terra Data, Microsoft, and IBM.
"If you want to break down a corporate strategy course that you will learn in an MBA, it's two questions," says Singh, "where to play and how to win. This is what we asked students to do. You don't have to go through a 14-week strategy course. These are the two questions you need to know."
As for the winner of this round? SMU took home the trophy. But IPADE has already challenged Cox to a rematch, so there will likely be one in the future.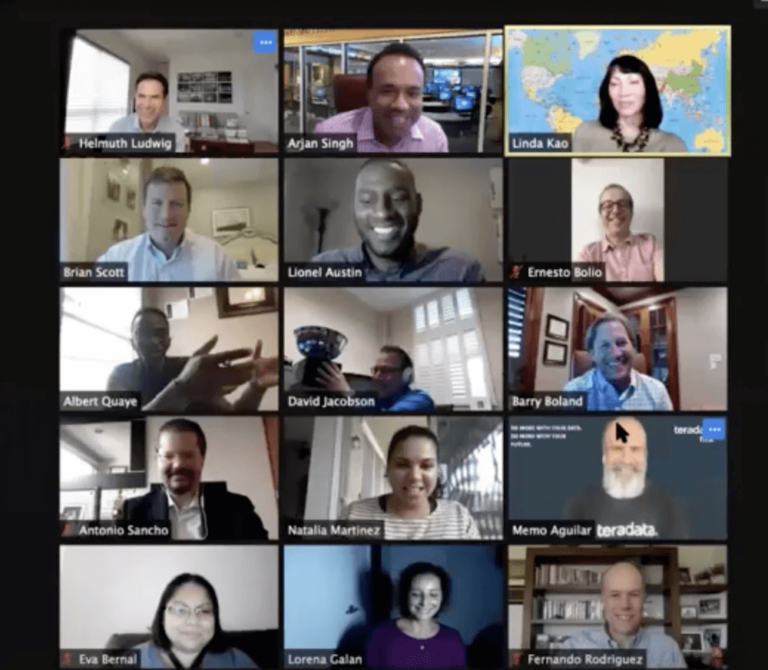 Professor David Jacobson awards the Mustang Trophy (virtually) to the War Game winners.
Future War Games for SMU Cox Online MBA Students
The concept of a War Game was entirely new to many of the participants, and Singh and Jacobson could not have been more impressed with the students' performance. "The students started talking like the company and understanding it," Singh said. "They took on the culture. Some companies are more conservative and some more aggressive. They started behaving that way, and that's really the key to success."
Students were thrilled with the results as well, describing the experience as "profound" and "a great experience in collaboration, " wrote another student. "As I begin to take on more management roles, competitive intelligence is a tool I'll definitely incorporate."
"Normally, experiential learning at SMU Cox was a pass/fail grade," said Jacobson. "Now because it's graded, and because the administration sees the practicality of it, everything we're doing is allowed to be used for strategy concentration or marketing concentration."
Singh and Jacobson are planning to continue the War Games due to the enthusiastic torrent of applications from students. For the first War Game, they quickly amassed a waiting list of more than 70 students from the Online MBA, Professional MBA, and Executive MBA programs. "As soon as we announced that we were doing more versions of wargaming, it sold out," Jacobson said. "Then we were asked to create another one and it sold out, and then we knew we were going to do one for the Online MBA."
Singh laughed, "Yeah, exactly. We're way beyond that." Well over 40 students had already applied to the War Game, the majority of the online MBA Cohort.
"It's very popular because—although it's an incredible amount of work for the students and it's very rigorous—it is all completely about learning a skill that they can take home immediately and practicing the skill in the real world."
In February 2021 a second "Battle for the Cloud" War Game took place exclusively for Online MBA students. SMU Cox plans to continue hosting additional War Games Courses, part of a new experiential initiative called High Intensity Short Term Electives which will continue to take place throughout the year. Students participate in a 72-hour immersion and earn 2-credit hours. Exciting topics & company partnerships will vary, and these details are forthcoming as Online MBA professors are actively developing these courses.
One of the key parts of the Cox Advantage is gaining the ability to leverage global and domestic immersive experiences to gain practice solving clients' real-world business challenges. Initiatives like these, run by some of the most experienced professors in the field, help live into our promise for our Online MBA students. To learn more about the SMU Cox Online MBA experience, and to become part of the next War Game at SMU Cox, speak to an enrollment advisor today.
»