Process
The course proposal process involves four basic stages of submission, selection, enrollment, and confirmation.
Submission: When you submit your proposal form online, a confirmation email will be sent to you, the Taos Office and your department chair. Your course must be approved by your department chair and dean in order for it to be considered.
Selection: After the proposal due date, all proposals will be reviewed by the SMU-in-Taos Course Selection Committee. Once courses have been selected, you will be notified via email. You will also receive a Contract Letter and Course Budget via email. Both documents should be signed and returned to the Taos Office as soon as possible.
Enrollment: Shortly after the course listing is set, the Taos Office will announce courses and begin accepting student applications online. At this time, we will need your assistance in promoting the full course offerings as well as your own class. Course enrollment numbers will be monitored throughout the student applications process. Your course may be cancelled if it does not garner sufficient enrollment by the priority application deadline.
Confirmation: After the student priority application deadline, the Taos Office will notify you of your course's status. If your course has been confirmed, you will be sent an email regarding Faculty Forms, which will need to completed and returned to the Taos Campus Coordinator as soon as possible.
Orientation: A student orientation is held in Dallas prior to each term. Time is set aside during this orientation for faculty to meet with their students (informally) and begin laying out expectations for the course. Faculty are required to attend this orientation.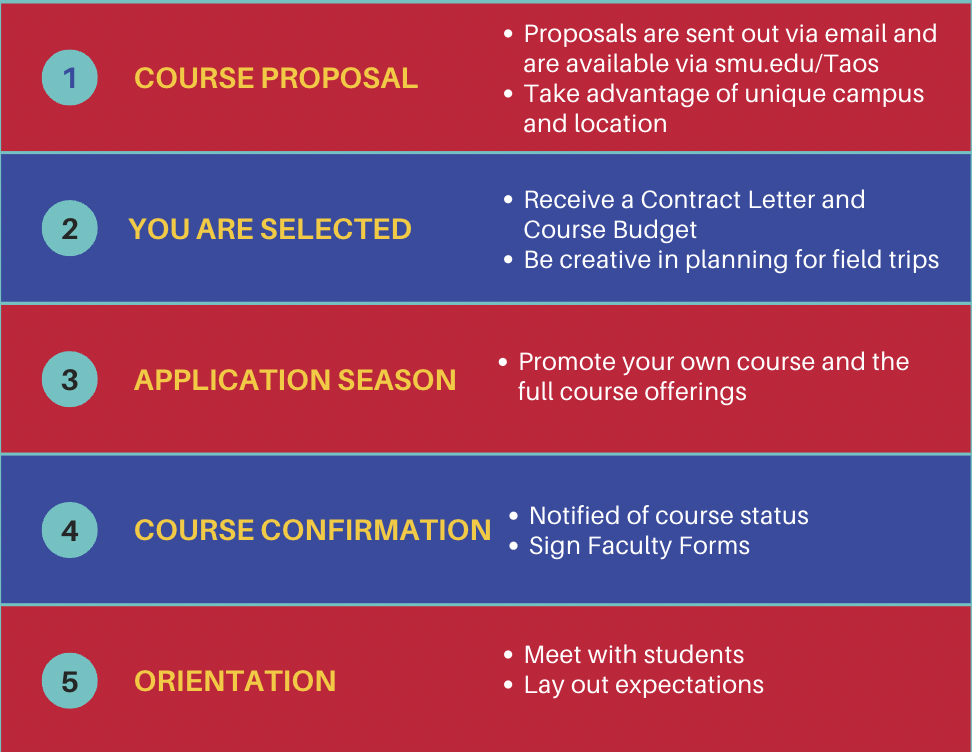 Course proposal form
We hope you will consider proposing a course for SMU-in-Taos. Should you need additional information, please contact us directly.
Faculty who wish to teach at SMU-in-Taos must submit a course proposal form. Typically, courses with obvious southwest relevance or experiential learning components, high student demand and departmental support will be most successful. SMU-in-Taos has three terms: Jan, May, and August. The call for course proposals for the winter term usually opens early fall. The call for course proposals for the summer terms usually opens late fall.
Propose a course for Jan Term 2024
Propose a course for Summer 2024 (May or August)