MBA Immersion in London: Experience for Life
Meet SMU Cox Online MBA student, Silvia Davis. Hailing from Brazil, Davis is now a Texas-based Product and Solutions Marketing Manager who decided to pursue her Online MBA at SMU Cox so that she can add even more value to her current role.
I had the privilege to be part of a lifetime experience while attending the London-UK Immersion last fall as part of my Online MBA program at SMU. I will share some of the fantastic experiences and why a program like this empowers us to be successful in our careers.
Digital Transformation Affects Companies Like Salesforce
Lara Martini – Senior Director, Customer Adoption EMEA at Salesforce—with years of experience in the High-tech market—opened the Immersion program. Lara spoke about the digital transformation that is affecting every business and, of course, all of us. She mentioned in her presentation, "Technology is digital, but users are human."
Lara is right; in a decade where user experience is key to companies' success, we can't forget that users are "human." She also shared her leadership and gave insights on how to be successful, saying: "Trust behaviors, not words." One more aspect that I learned from her, was asking questions back to people such as "give me an example." This is a very powerful question in communication. It always removes any doubt.
Nonprofit Organizations Help the Community
We had a presentation from two very interesting men representing nonprofit organizations: Chris Gibson from ICE – Institution of Civil Engineers of UK, and Matthew Doyle from Housing Pathways.
It was inspirational to hear from Chris and Matthew and what they are doing to help their communities. Chris presented for ICE organization, which provides detailed guidelines, an unmatched level of training, knowledge, and thinking in how to build an environment focusing on sustainability. ICE has been helping the engineering community for more than 200 years.
In comparison, Matthew Doyle presented a "touching" project to help find housing for foster children. It was a heart-breaking story to learn how many kids are in need and how we can make a better world for them and their future.
Case Study Competition: What Happens in London Does NOT Stay in London!
We were a group of 20+ students, and we were divided into groups of four to solve problems for actual organizations. Our assignment was to listen to the challenges of each organization, find what issues they were facing and come up with solutions. The rally started right there. There was only one team that was going to win the competition.
Everyone was extremely engaged in identifying critical issues to provide the best solution. The students were focused on doing research, interviews, and dialogs with the faculty. We needed to bring strategic and tactical solutions in a short time, which represents the reality of every business. I love this type of work since part of my job is to help companies succeed using technology.
Companies Must Think Out of the Box to Handle Competition
There was a lot more going on!
The time was short, but the faculty brought unique skilled professionals to share their experiences, challenges, hurdles, and how they are standing out among the competition by thinking out of the box.
Here are some examples: We had a panel, that I loved, with Ricardo Vital from British Airways, talking about top innovative ideas being tested in the aviation environment. Rachel Aldighieri from Data and Marketing Association, who shared how marketing is changing due to the new generations.
The diversity of knowledge and experience was insightful to see how people are challenged and how they come up with innovative ideas.
Entrepreneurship and Technology in Small Markets
Emma Smith, the co-founder of Eversend, was one of my favorite presentations. This young woman has it all. She is passionate, courageous, innovative, and full of energy. She created a neobank for Africans to exchange money using blockchain technology – what an amazing story.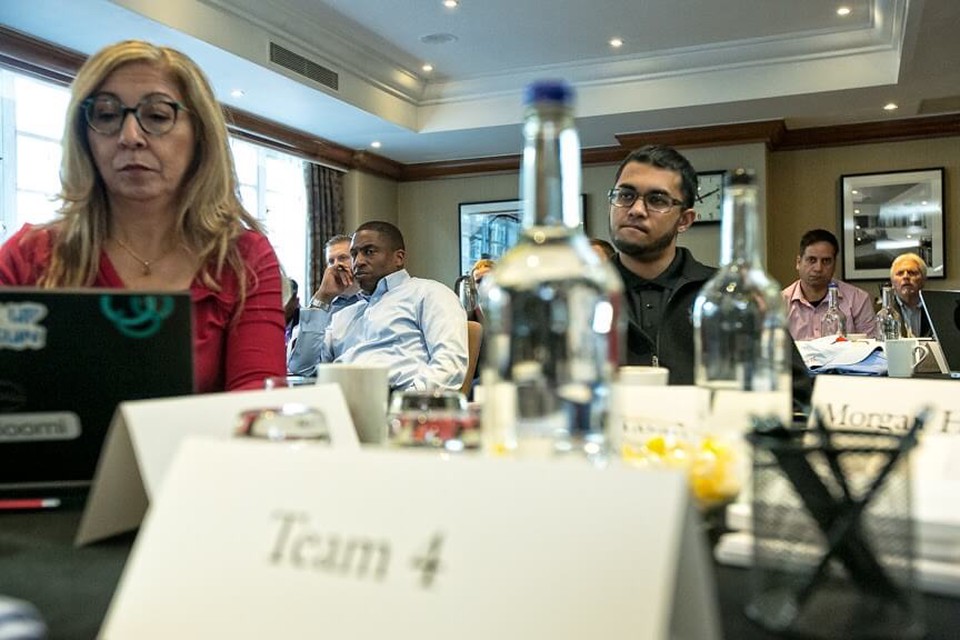 Microsoft's New Corporate Culture
A Microsoft representative explained how Microsoft changed the game to continue to be relevant and innovative in the market, changing the culture of the company and focusing on the employees.
Beyond Study: Fun Times in London
SMU provided a guided tour to various London sites and locales. Because I was in London also for work, I limited my sightseeing to a minimum. But, I had a chance to go to a stylish dinner with the Dean, presenters, faculty, and students. The dinner was in the Churchill Museum, which we had an exclusive visit around. The SMU Dean, Matthew Myers was very personal; he spoke to all the students and asked questions about how SMU can continue to be relevant to all of us as future executives.
My classmate and friend, Leslie Wagner and I had a chance to see the Broadway show "Waitress," which was so funny and we had delicious food. My favorite was the "fish and chips".
Teamwork Was the Big Takeaway
As I mentioned, the SMU Immersion in London was unique ! We got to know everyone's experiences and learn from them. The presentations were very creative, and everyone brought "out-of-the" box and specific solutions to the two cases that we worked on.
Big thanks for all the efforts to create this very professional and strategic experience! Kudos to the SMU team: Matthew Myers, David Jacobson, Arjan Singh, Jill Melton, Michael Davis, Lara Martini, Linda Kao. I can't say enough thanks to my teammates – Morgan Holcomb, Salman Hasan and Michael Sheinfeld. that I learned a lot from them and together, we managed to win the case competition trophy.